Our education system is a blend of traditional values and modern innovation that prepares students for the modern era while at the same time inculcating traditional values that keep them close to their roots.

From holding their hands to guiding them on how to write to guiding them on every step of life, we build a connection that lasts forever. Our goal is to prepare each student for professional success by developing fundamental competencies, intellectual discipline and self-reliance. The motto is to impart an education that extends beyond the confines of formal education. After all, learning transcends textbooks. It is more about teaching life skills.

We build, inculcate and awaken talents. We encourage our students to bring out the best in themselves and enable their development through the joy of learning, enduring values and the celebration of diversity. All it takes is a little push that pushes students out of their comfort zone and on their way to excellence. And with our magic wand called guidance, we are guiding them that way!



Lucky Bal Niketan, a distinguished educational institution, was founded in the year 1969 by the esteemed visionary, Lt. Sh. B.L. Kachhwaha. With utmost reverence, Lt. Sh. B.L. Kachhwaha personally planted a sapling, symbolising the humble beginnings of this renowned establishment. Regarded as a revered educator of his time, Lt. Sh. B.L. Kachhwaha possessed exceptional expertise in Hindi Literature and Grammar, captivating his students with his unparalleled teaching methodology. His dedication to the field of education spanned nearly six decades, during which his reputation for excellence resonated throughout the region of Rajasthan.
Fueled by an unquenchable passion for learning, Lt. Sh. B.L. Kachhwaha established Lucky College in 1970. Under his invaluable guidance, unwavering commitment, and tireless dedication, this unique educational institution flourished. Supported wholeheartedly by his lifelong companion, Sh. S.N. Kachhwaha, the seeds of Lucky College blossomed, leading to the establishment of an additional branch known as Lucky Bal Niketan, Sojati Gate in 1977. Since its inception, Lucky Bal Niketan has consistently demonstrated academic excellence, scaling new heights with each passing year.
Over time, this exceptional institution has grown into a magnificent banyan tree, sprouting branches such as Cambridge Public School, Lucky Bal Niketan Kamla Nehru Nagar, Lucky Institute, G.D. Memorial College, Lucky International School, and Lucky Career Academy. Each of these branches has made a significant impact on the educational landscape, not only within the region but also beyond its borders.
The legacy of Lt. Sh. B.L. Kachhwaha continues to permeate the halls of Lucky Bal Niketan and its various branches. His boundless passion for education, combined with his unrivalled expertise and unwavering commitment to excellence, serves as an everlasting source of inspiration for generations of students and educators.
"Education is the soul of a society as it passes from one generation to another."
Education is the basis of all progress. The entire purpose of education is not to restrict itself to imparting bookish knowledge only but inculcate humanitarian values like wisdom, compassion, courage, humility, integrity and reliability in a student. The choice of the school where your child will spend many precious years of their life is crucial in this fast-changing technology-driven world. Your child's aspirations must complement your choice and articulate in a positive manner all these essential questions. This will be instrumental in providing your ward with a bright and prosperous future. We, just like you, believe in holistic education for your child, encompassing academics, co-curricular activities, sports education and life-skills learning.
Our endeavour is to strike a balance between state-of-the-art infrastructure and an internationally acceptable education. The campus, sports and academic facilities all bear testimony to this effort. In order to promote an internationally acceptable education, our key focus has been on faculty development providing continuous teacher training in order to deliver real value education and excellence in academics. Teachers are trained not only to teach well but are also expected to inspire confidence and trust in their students and become role models.
Further, the School inculcates in the students a respect for tradition and ensures discipline and good manners. Although discipline is our watchword, a pleasant scholastic and co-scholastic environment pervades the campus. Located in serene surroundings, away from pollution and noise, but easily accessible, the campus offers all the necessities. We are confident that this school is the best place for your child. We welcome your active interest and involvement in the progress and activities of your child. Looking forward to your continuous support.
"Everyone has a talent and so do you. Let it shine out, that is all you have to do."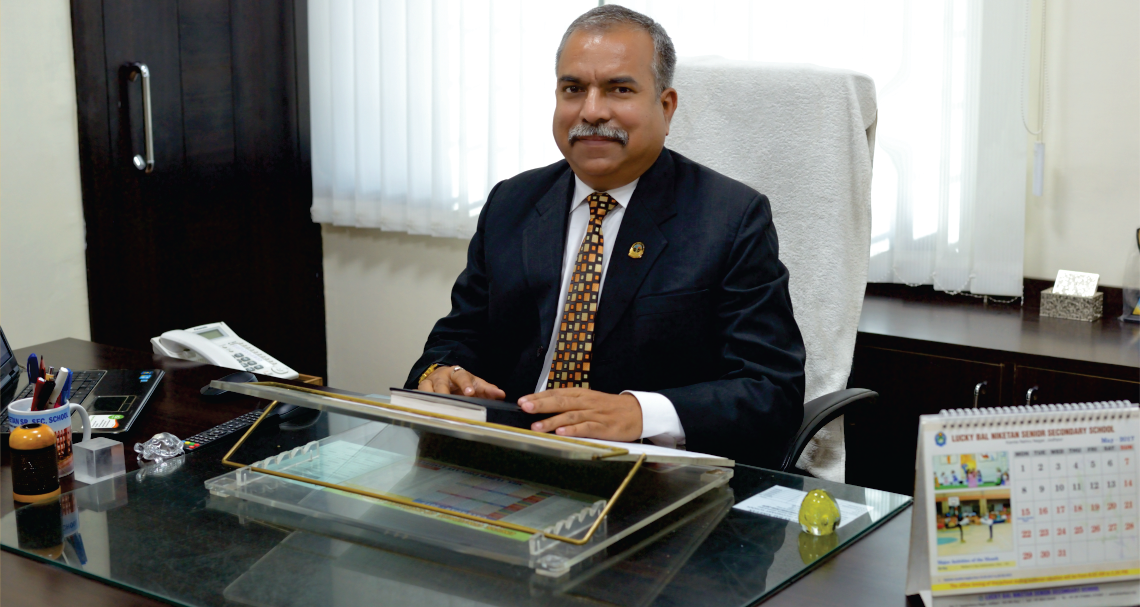 Dear Parents, Guardians and Students,
My unflinching belief has always been that those who find pleasure in a diligent, dedicated and disciplined life reap a bountiful harvest in the form of divine satisfaction. Our emphasis is on the holistic development of a child by fostering a synergic blend between scholastic and co-scholastic achievements and a host of co-curricular and extra-curricular activities that find a rightful place in the curriculum. As a dynamic and progressive educational institution, we provide a collaborative, cooperative and supportive environment to foster innovation as well as support teaching practices that are not only stimulating and conducive to learning but also ensure that our students grow up into autonomous individuals with deep-rooted value systems.
At LBN, we believe that communication and cooperation between home and school are essential elements for a successful school experience that promotes optimal student learning. We want your child to feel loved, nurtured and safe at LBN. Parents are encouraged to visit our school, maintain regular contact with their child's teacher, and attend parent meetings. Winners from all walks of life have their own strategies and plans but they all have one thing in common – they try. So let's keep trying. Wishing you all the best.
Two important factors that drive learning are the environment and the facilities. While we strive to provide a nurturing environment, we make sure our students get all the facilities they need to excel in every sector of life.
Lucky Bal Niketan, Jodhpur, stretches over acres of land and has been designed specifically to ignite children's imaginations. The brick structure along with the expansive green lawns, the spacious classrooms and the open environs offer an ambience that is conducive to intellectual pursuits and holistic development.
An extensive collection of science fiction, drama, adventure books, anthologies, poetry, encyclopedias, dictionaries, comics, biographies, autobiographies, travelogues, and enough references and textbooks is available in the LBN library. Our advanced and well-equipped Physics, Chemistry and Biology labs let students explore, experiment, discover new things and put their theoretical knowledge to practical use.